Khichdi, the most common one pot meal in India is a wholesome dish made using rice and lentils. Usually made with mung dal, khichdi can also be made using toordal or whole moong dal.  You are sick, you are tired, you want to eat light, you want to go on a balanced diet, you want to detox? then look no further. This one pot meal is the answer to all of these. Khichdi is comfort on a plate.
Khichdi is made in different ways in different parts of India. This one pot meal in Karnataka is known as Huggi, Pulagam in Andhra Pradesh, Pongal in Tamilnadu, Galho in Nagaland, Khechudi in Odisha . The method of preparation might vary a little but the basic recipe remains the same.
Khichdi can be prepared in a simple manner or can be made elaborately using spices and vegetables. Khichdi is usually served with curd, papad, pickle, lemon juice or ghee.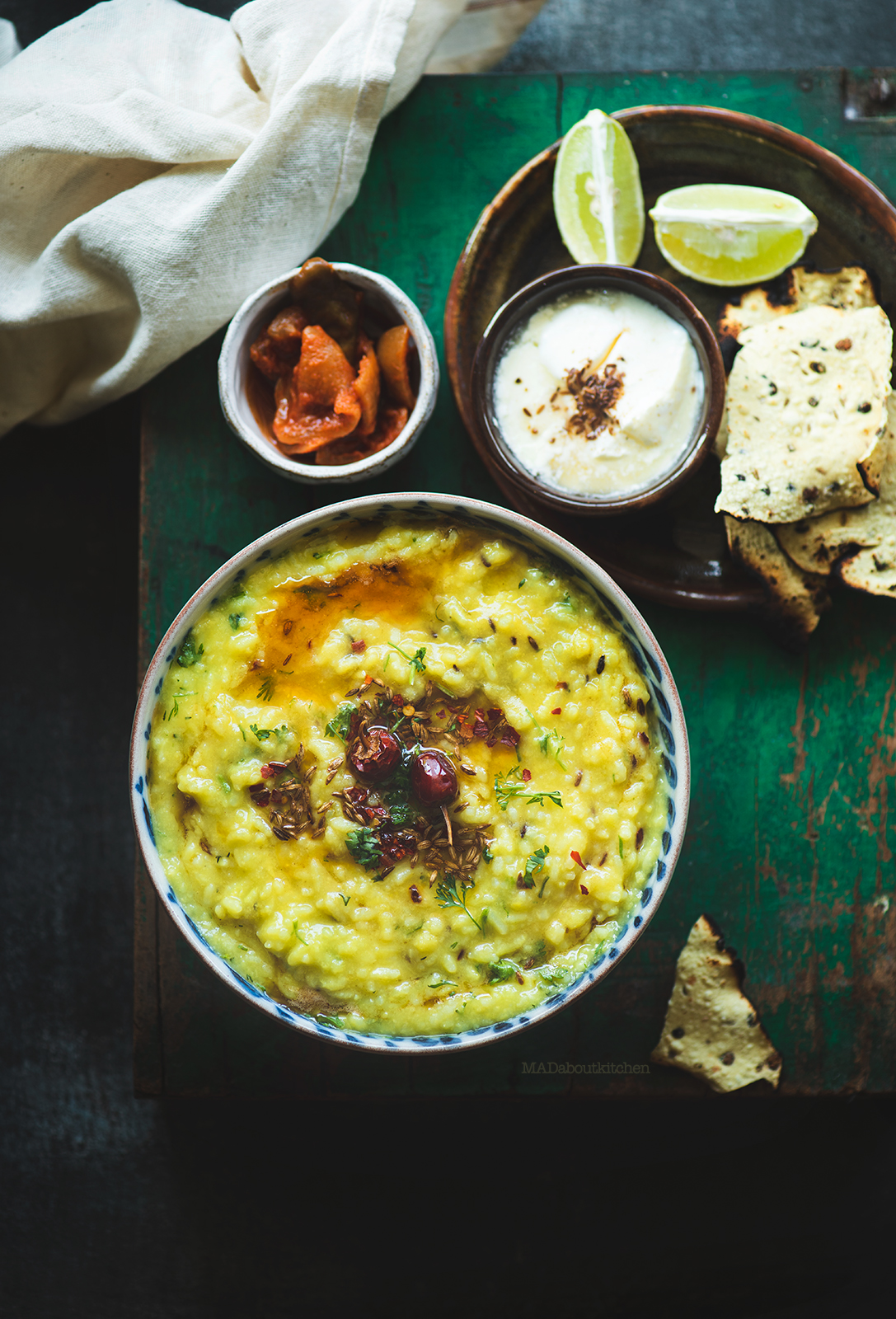 Ingredients
1 Cup – Rice ( I use local Rajmudi rice, but you can use any rice of your choice or even millets)
1/2 cup – Moong dal
A pinch of hing
1 tsp – Turmeric
1 Tbsp – Jeera
1 tsp – Red chilly powder
1 Tbsp – Lemon juice
1 Tbsp – Ghee
1/4 cup – Chopped coriander leaves
Salt to taste
For tempering
1 Tbsp – Ghee
2 – Dried red chillies
1 Tsp – Jeera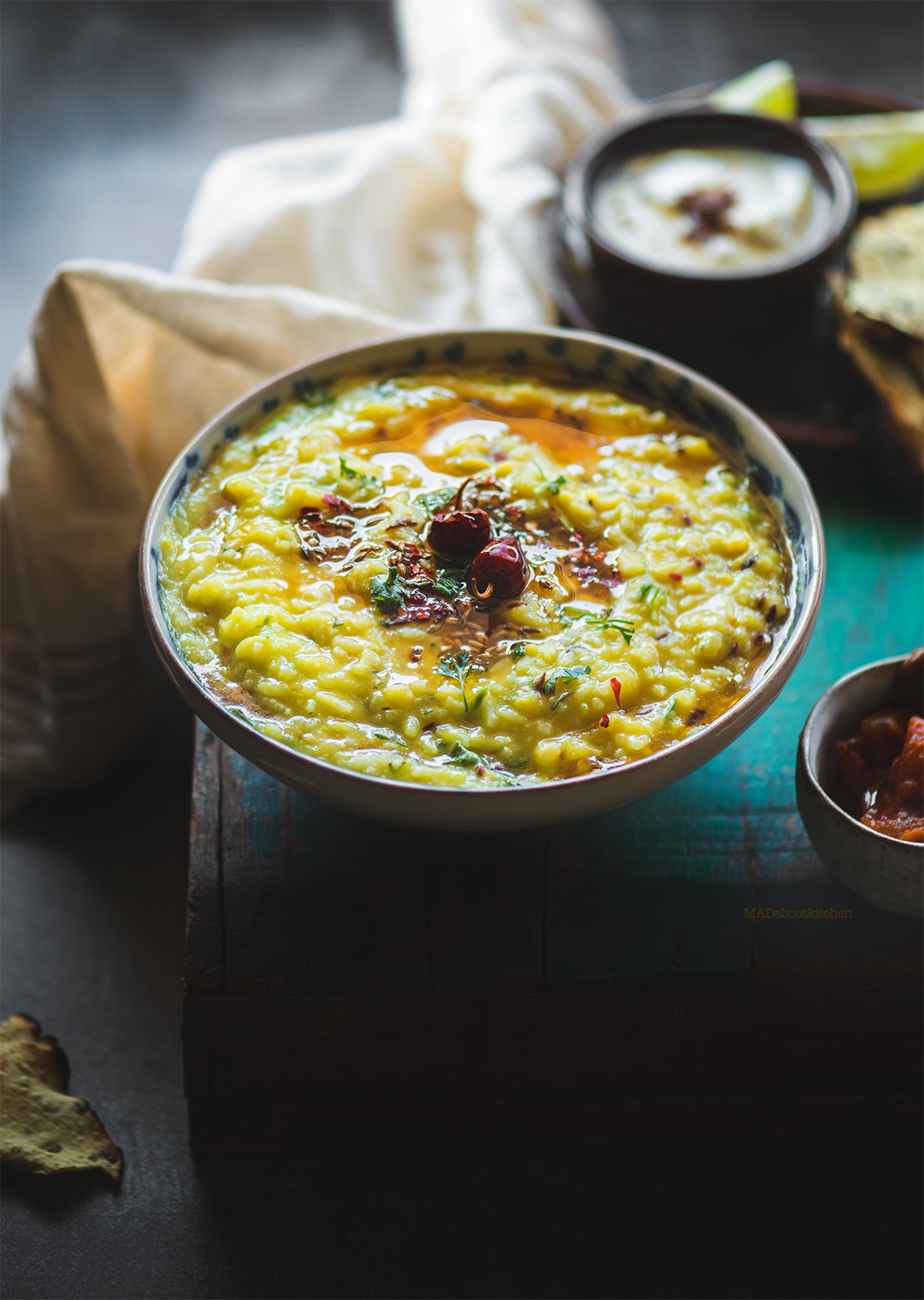 Method
Wash and soak rice and moong dal in water for 1/2 hour to 1 hour. You can skip this step if you are in a hurry. But soaking grains helps them cook quicker and well and also they are easier to digest.
Cook the soaked grains in pressure cooker along with turmeric till they are cooked well. Softer than usual rice. I usually let the cooker let out 5 whistles where as for regular rice it is 3 whistles.
Once the cooker cools down, take out the lid and mash the rice and dal using the back of a spoon till they are broken well. I like it mashed well.
Add 2 cups of water to the rice mixture and mix.
In a pan, heat oil and add jeera to it. Once the jeera crackles up, add red chilly powder, hing and give it a quick stir.
Add the mashed rice mixture and give it a good mix.
Add salt and let it boil till it reaches the desired consistency.
Switch off the flame and squeeze the lemon juice, add chopped coriander leaves and give it a mix.
For tempering, heat ghee in a tempering pan. Add jeera and let it crackle and crisp up. Add red chillies and pour it over Khichdi.
Serve with with raw onions, pickle , curd, papad, lemon wedges or ghee. Or with some namkeen too 🙂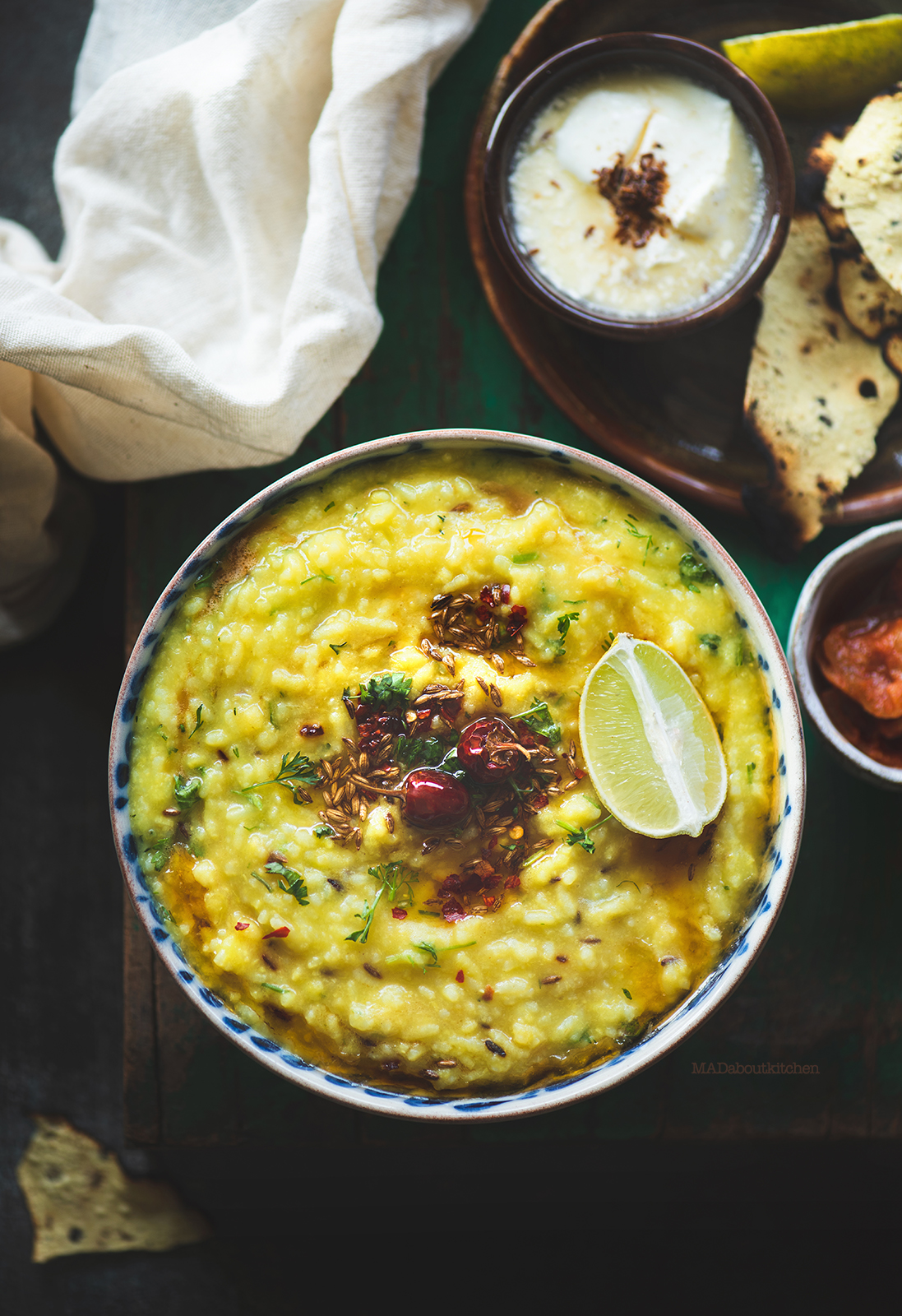 Khichdi - Indian one pot meal
Khichdi, the most common one pot meal in India is a wholesome dish made using rice and lentils. Khichdi is the comfort food that is easy and healthy.
Ingredients
1 Cup - Rice ( I use local Rajmudi rice, but you can use any rice of your choice or even millets)
½ cup - Moong dal
A pinch of hing
1 tsp - Turmeric
1 Tbsp - Jeera
1 tsp - Red chilly powder
1 Tbsp - Lemon juice
1 Tbsp - Ghee
¼ cup - Chopped coriander leaves
Salt to taste
For tempering
1 Tbsp - Ghee
2 - Dried red chillies
1 Tsp - Jeera
Instructions
Wash and soak rice and moong dal in water for ½ hour to 1 hour. You can skip this step if you are in a hurry. But soaking grains helps them cook quicker and well and also they are easier to digest.
Cook the soaked grains in pressure cooker along with turmeric till they are cooked well. Softer than usual rice. I usually let the cooker let out 5 whistles where as for regular rice it is 3 whistles.
Once the cooker cools down, take out the lid and mash the rice and dal using the back of a spoon till they are broken well. I like it mashed well.
Add 2 cups of water to the rice mixture and mix.
In a pan, heat oil and add jeera to it. Once the jeera crackles up, add red chilly powder, hing and give it a quick stir.
Add the mashed rice mixture and give it a good mix.
Add salt and let it boil till it reaches the desired consistency.
Switch off the flame and squeeze the lemon juice, add chopped coriander leaves and give it a mix.
For tempering, heat ghee in a tempering pan. Add jeera and let it crackle and crisp up. Add red chillies and pour it over Khichdi.
Serve with with raw onions, pickle , curd, papad, lemon wedges or ghee. Or with some namkeen too 🙂