This is my recipe in this new series of Diwali Desserts. I already posted the recipes of Jaggery Kulfi, Kobbari Mithai , Jalebi and Saffron Rose Panacotta 
Obattu/Holige/Puran Poli is one of the traditional sweet dish of India. The process is very similar to making a stuffed paratha/ Stuffed Indian bread. Obattu/Holige/Puran Poli is always considered a little time consuming and strenuous for one person to make, hence I always make it with my mom and sister-in-law. It is not the only reason though. Making it together makes it feel so festive and fun. 
Obattu/Holige/Puran Poli is a sweet bread stuffed with either lentil mixture or coconut mixture. I have today made the lentil mixture which is known as BELE OBATTU / LENTIL OBATTU ?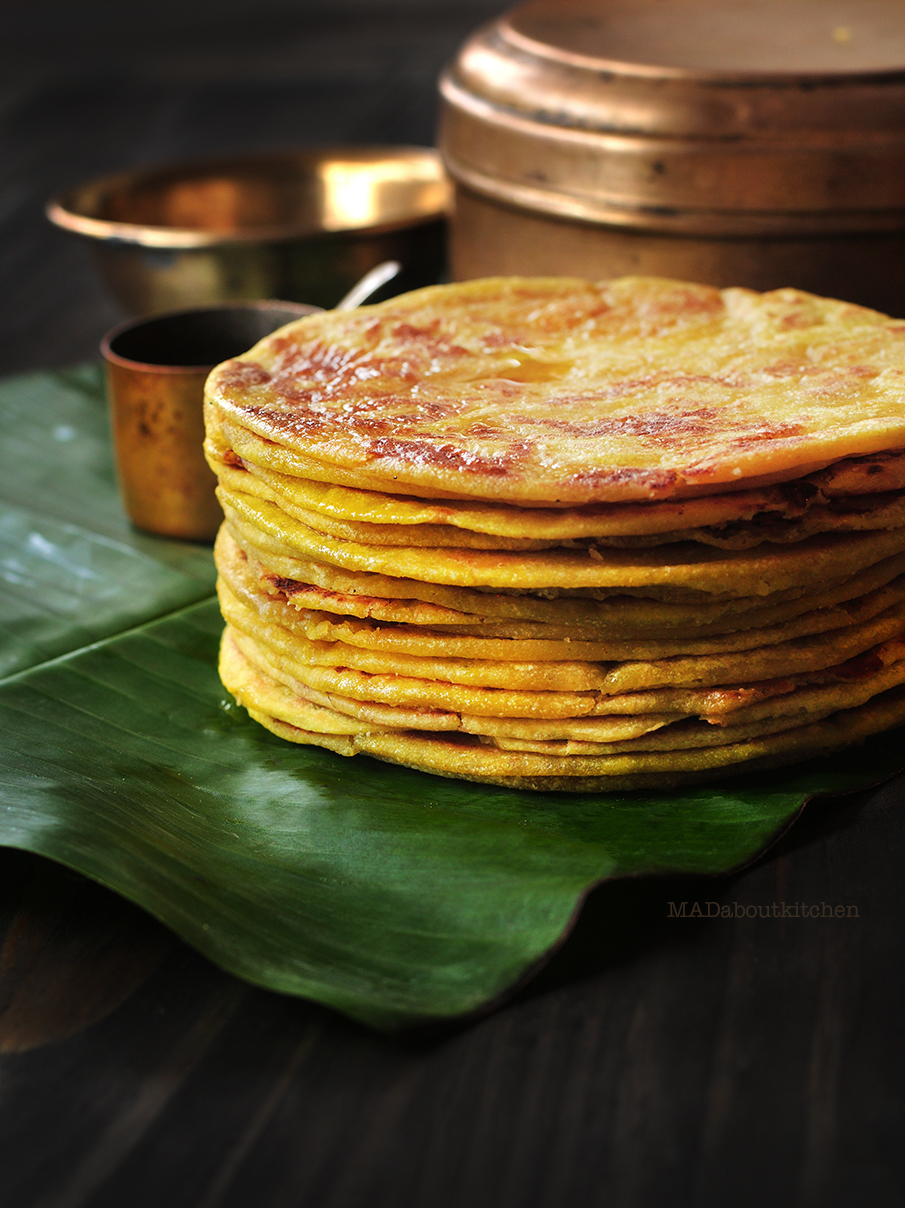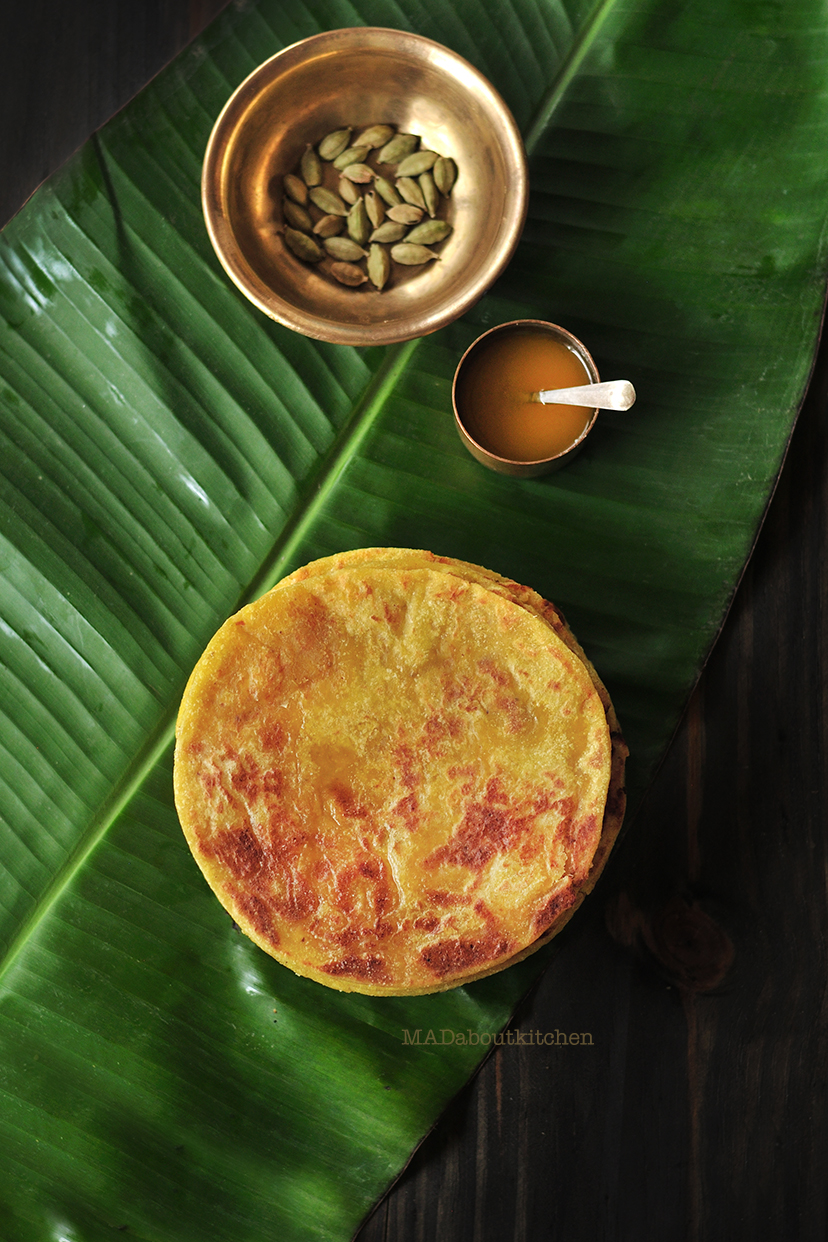 Ingredients 
For the outer layer 
1 cup – Fine rawa/ semolina ( I have used chiroti rawa)
1 cup – All purpose flour
1 cup – Groundnut oil , filtered 
1 tsp – Turmeric powder
1/2 tsp – Salt
For the filling 
2.5 cups – Chana dal / Split Bengal gram
1.5 cups – Jaggery, powdered or chopped into smaller pieces
6 to 8 – Cardamom, freshly ground 
Plantain leaf or Grease proof paper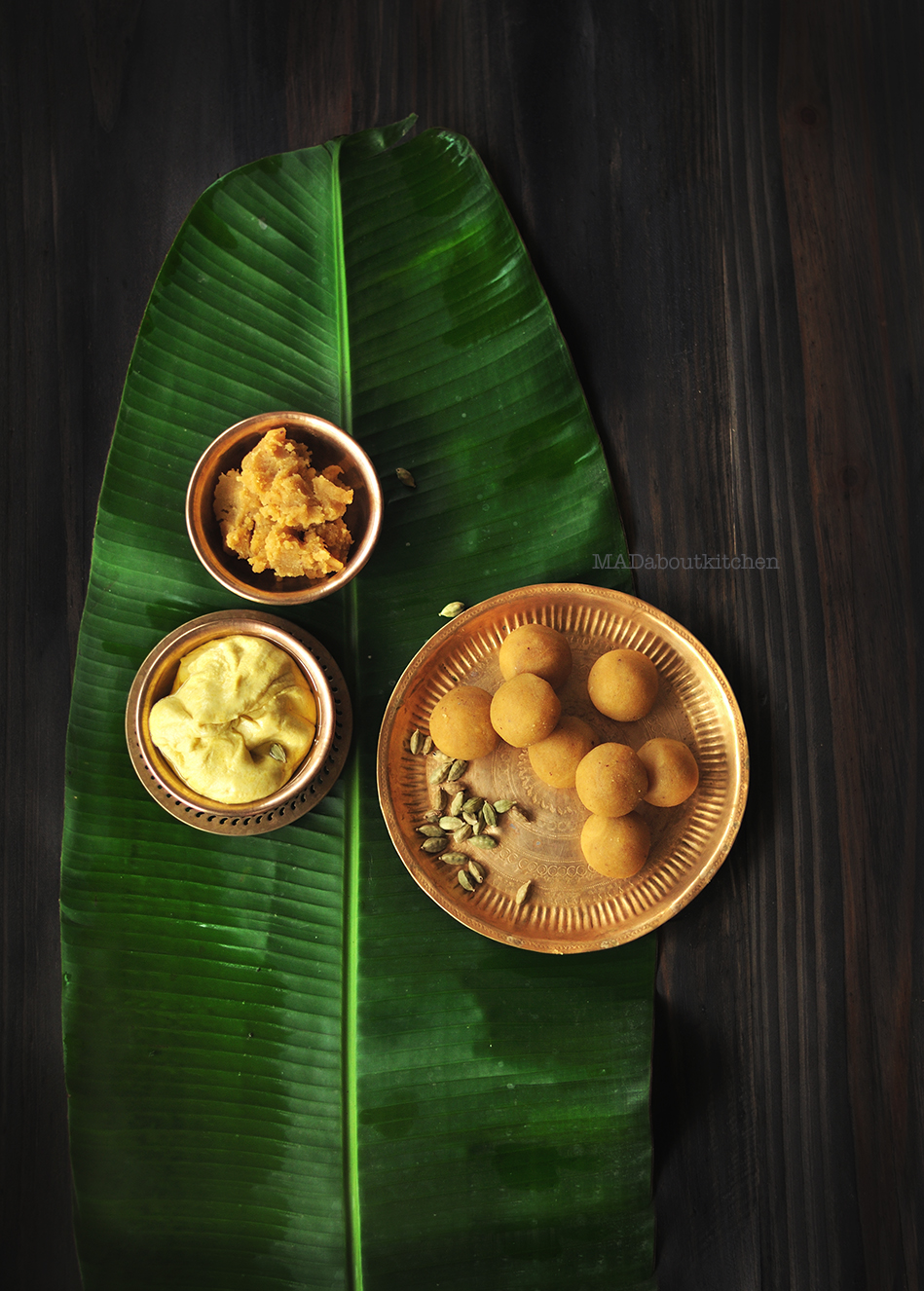 Preparation
Mix chiroti rawa, maida , turmeric and salt in a bowl. Add water to this and knead it to the roti dough consistency. Once it reaches the consistency, knead it further for 5 minutes. 
Now place this dough in a small bowl and fill it with oil. Leave it to marinade overnight or atleast 4 to 5 hours. 
In the meantime pressure cook the bengal gram till it is cooked well. Drain it for excess water and let it cool.
Once the cooked dal is cooled , blend it into a smooth paste. Do not add water. 
Now take jaggery in a heavy bottom pan and heat it on low flame till it melts. Add a tbsp of water, not more , if you think it is burning. 
Once the jaggery has melted, add the dal puree to it. Mix it till the mixture comes together. Keep cooking it while mixing continuously till it starts forming into lump.
When the mixture starts leaving the sides of the pan and forming into a ball, switch kff the flame and let the filling cool. Add cardamom and give it a mix. 
Once the mixture is cool, knead it lightly and make lemon size balls out of it. Cover it and set it aside.
So now we have the filling made into balls and the outer layer soaking in the oil .
If using a plantain leaf for making obattu, clean it, wipe it and just burn it lightly on the flame. Burning it slightly makes is soft and hence will not tear while making obattu. 
Method 
Remove the rawa dough from oil and knead for atleast 10 minutes, till it is elastic and smooth. Keep the oil aside for later use.
Now make small marble sized balls with this mixture. 
Oil your palms well. Place one rawa ball inbetween your palm and press it. Now gradually increase the size of the dough by pressing the outer edge. 
Place one filling into it and start gathering the edges and seal it well.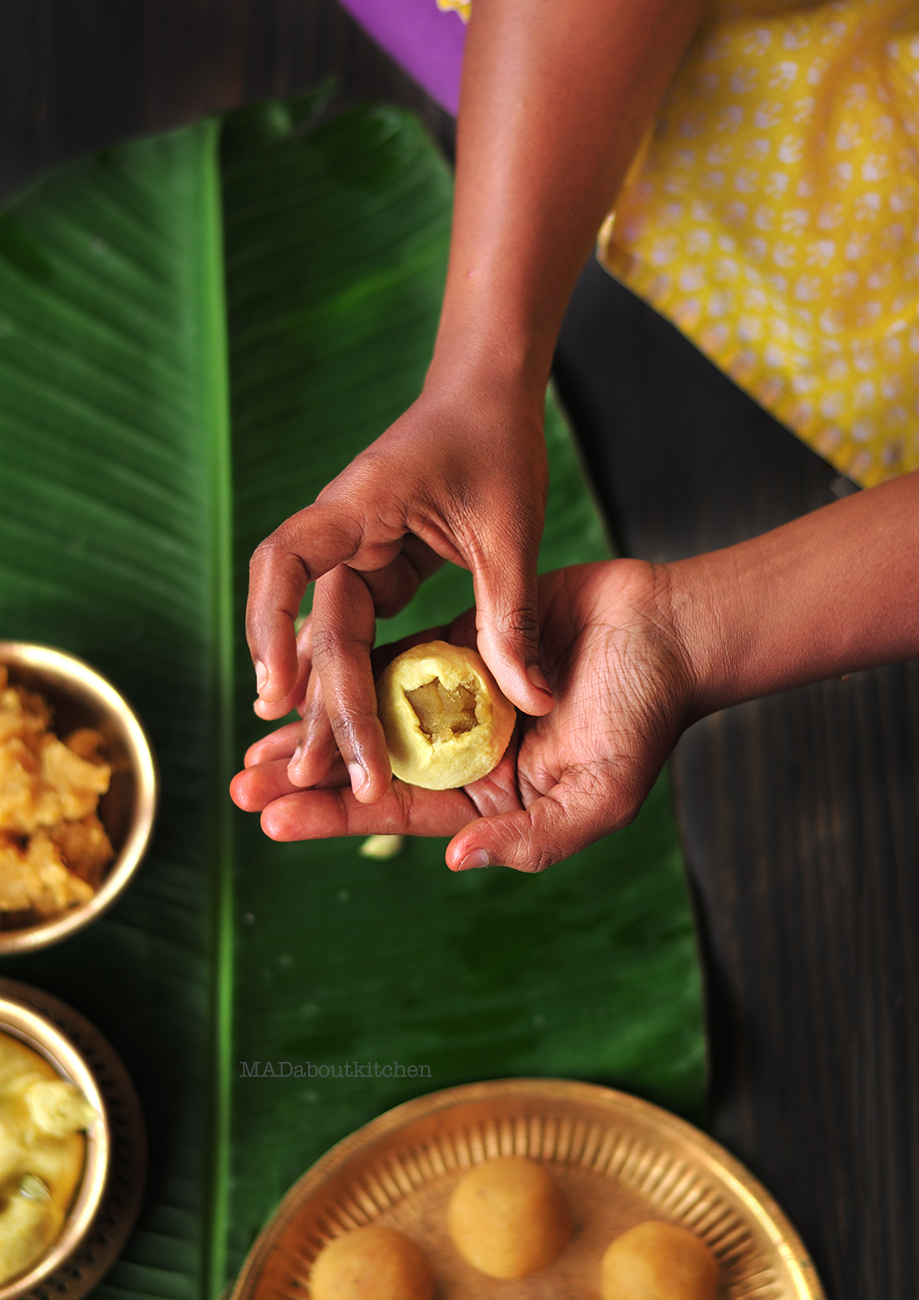 Make sure you have enough oil on your hands all the time. 
Repeat this with all the remaining fillings. Keep them covered all the time, stuffed and unstuffed both.
Now apply a tsp of oil on the plantain leaf or grease proof paper and place the stuffed ball on it. Put another tsp of oil on the ball. 
Using your fingers, starting from the centre and working outwards, press the ball evenly and gently. Keep rotating the leaf while pressing so you get even thickness.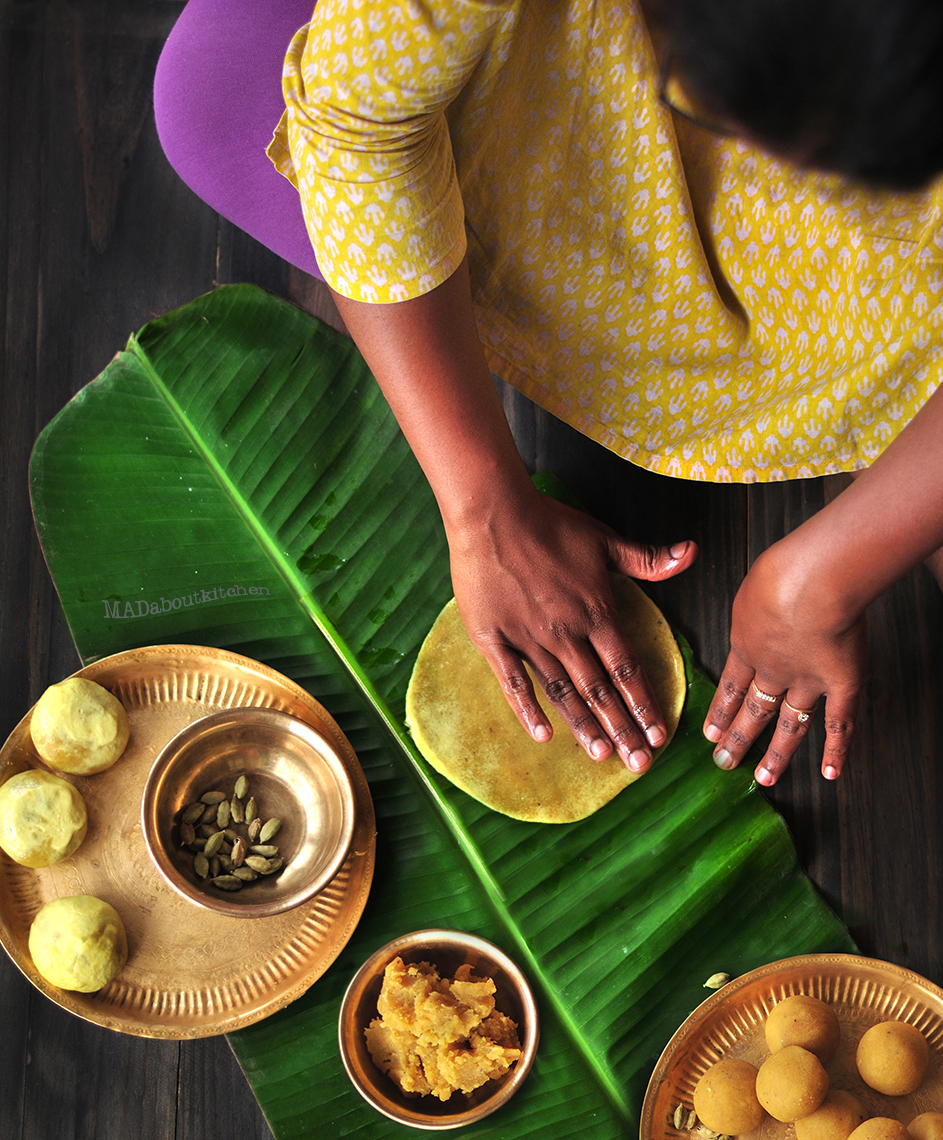 Once you have achieved a nice round shape, apply a little more oil on it. 
Heat a non stick pan.
With the leaf or the paper, put the obattu on the tawa with leaf on top. Give it one second and carefully peal the leaf. 
I love the impression the leaf leaves on the obattu, feels so nostalgic and authentic.
Drizzle oil on top, and flip it once. Drizzle oil on the other side and flip it again. Do not flip it more than three times, my mom says!
Repeat the same method with the other stuffed balls. It tastes the best when served hot. Gently heat it over a pan whenever you want to serve with a huge dollop of ghee.
And it requires nothing more. 
Let it cool completely and you can store it in a box for a week. Not only did i enjoy making Obattu, but enjoyed shooting it as well!