Mamidikaaya Pappu – raw mango curry is a speciality from Andhra Pradesh. The sour ,spicy curry is served with steamed rice and ghee and some fryums to go with it. I also serve Mamidikaaya pappu with raw mango slices to go with it which gives a very nice crunch to the dish. I love Andhra food specially Pappu Chāru. This raw mango curry is so good that I make it at least once a week till during mango season. And Tothapuri is available mostly all year round making it a good option to use, but you can use any sour mango for this.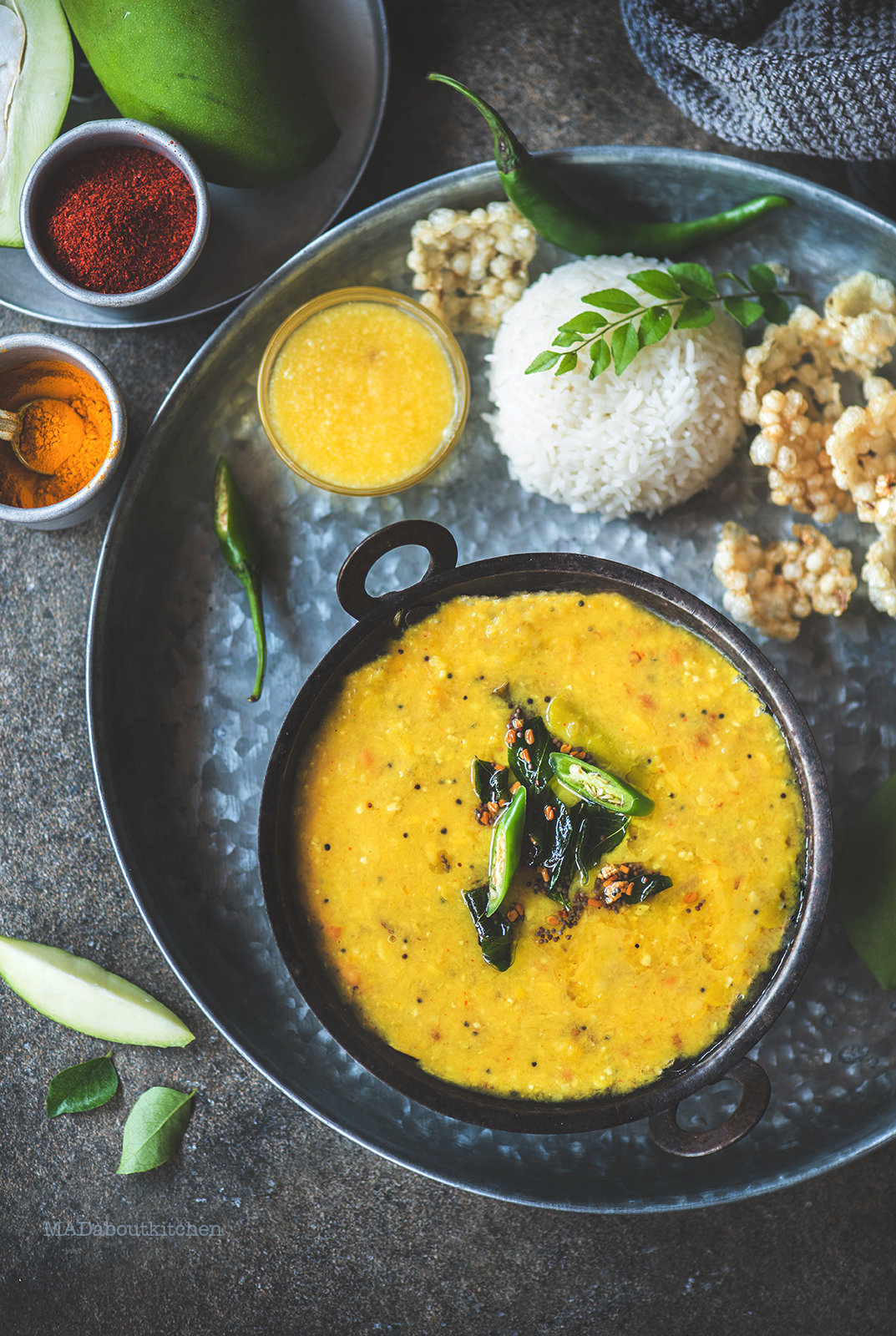 Ingredients
1 – Tothapuri Mango or any sour mango of your choice
3/4 cup – Toor dal
4 – Green chillies
1 tsp – Turmeric powder
1 Tsp – Fenugreek seeds
1 Tsp – Red chilly powder
1 tsp – Mustard seeds
1 sprig of curry leaves
1 Tbsp – oil
1/2 – tothapuri mango for serving
Method
Wash and soak the toor dal for 1/2 an hour.
Peel the Tothapuri mango and chop them up into 1 inch cubes and discard the seed.
Add the soaked lentils, mango chunks, turmeric, slit green chillies and 1.5 cups of water and pressure cook it till the cooker releases 3 whistles or till the dal is cooked well.
Once the pressure cooker cools down, open the lid add red chilly powder, salt to the cooked dal and mash the dal and mango chunks till smooth.
In a heavy bottomed pan, heat the oil.
Add mustard seeds let it splutter. Add fenugreek seeds, curry leaves and let them turn brown and curry leaves crisp up.
Add the cooked dal to this and let it come to a boil. Add more water to get it to a creamy curry consistency.
Serve it on rice with ghee and some fryums and some raw chopped mangoes. I love to have a piece of raw mango with every bite.