Gulab Jamun, are the most famous Indian Dessert that are deep fried balls made of Khova or reduced milk and soaked in sugar syrup till it is soft and melts in your mouth. 
Though Gulab Jamun is one of the most common desserts in India, it is not so simple to get it perfect. I have noticed that the centre is hard sometimes or it is too soft. It is grainy sometimes or sometimes has cracks in them.There are various ways of making it. You can use gulab jamun instant mix thats readily available or make one yourself. 
I have been working on making those perfect gulab jamuns using instant mix and also making it from scratch. I will write down the points for you here and hopefully they will help you in achieving these perfect Gulab Jamuns.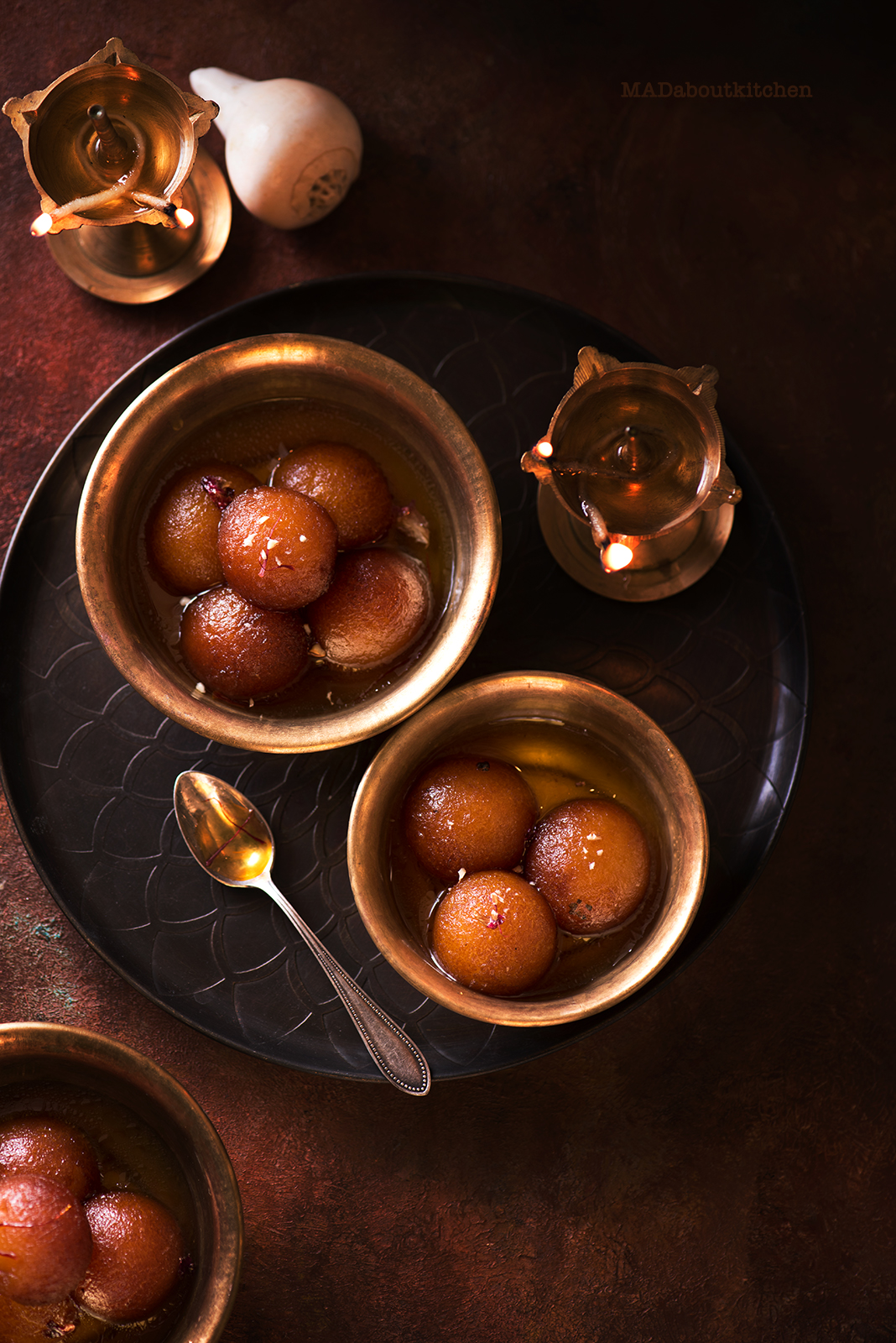 Naraka Chaturdashi is the begining of Deepawali, the three day festival of lights. 
God Krishna, is believed to have killed the demon Narakasura on this day. Hence the celebrations by lighting 100s of lamps to mark the end of darkness.
As a kid i remember on Naraka chaturdashi, we were made to have head bath before sunrise and light lamps at the front door, and crack atleast one firecracker before sunrise. I would love the whole festive mood, the food and a week long holiday. Even the smell in the air would be festive. 

So tomorrow is the beginning, and all the clay lamps are soaked in water and dried and ready to be lit tomorrow before sunrise.  
For the Syrup
3 cups – Sugar
3 – Green Cardamom pods
5 cups – Water
2 – drops of Lemon Juice, optional
A pinch of saffron
1 – tbsp – Rose water
For the Jamun
Ingredients (option 1)
250 gms – Khova (store bought or homemade)
3 tbsps – All purpose flour
1/8 tspn – Baking soda
1 tbsp – Milk
Oil or Ghee for deep frying
 Ingredients (option 2)
200 gms – Khova
50 gms – Homemade Paneer
3 tbsps – All purpose flour
1/8 tspn – Baking soda (optional)
1 tbsp – Milk
Oil or Ghee  for deep frying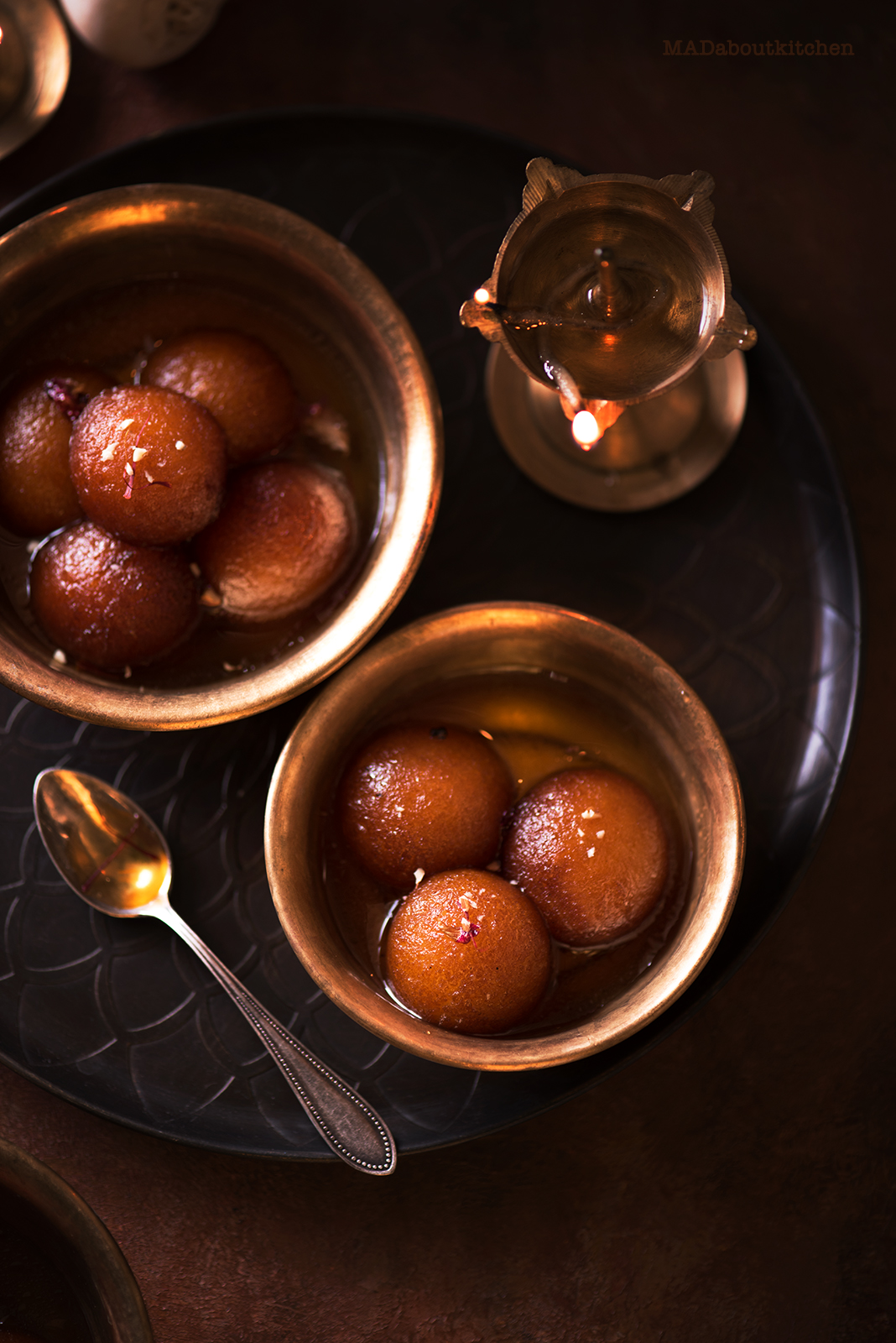 Method
In a Kadhai (wok) keep the water to boil.
Once the water starts boiling, add sugar to it and stir it till it dissolves.
Let it boil for 5 minutes.
Add crushed cardamom and saffron to this and let it boil for 5 more minutes.
Add lemon juice to avoid crystallisation of sugar and boil for another 5 minutes.
Add rose water and boil for another 5 minutes. By now the syrup should be sticky but not one string consistency. It should be slightly thick and sticky. If not boil till it reaches the right consistency. Switch off the flame and cover the wok with a lid.
To start making the jamuns ,take room temperature, soft Khova in a wide plate. Crumble it and knead it with the heel of your palm for 5 to 7 minutes till it is smooth.
Add Paneer if using and knead for another 2 minutes till it is smooth.
Add all purpose flour and baking soda and knead well again for a couple of minutes. Sprinkle milk evenly over mixture and mix it well.
If required, add few more drops of milk and mix well. Mixture should be soft. If the mixture is too soft then add a little all purpose flour. 
Cover it with a damp cloth and let it rest for 5 minutes. In the meantime heat the ghee or oil for deep frying in a deep kadai or a small pan over low flame.
Grease your palms with ghee and divide mixture into equal sized small portions using a measuring spoon . I use 1tsp. Do not make larger balls as its size will increase to almost double after deep frying and soaking in sugar syrup.
Take each portion in between your palms and make a round shaped crack free ball from it. While rolling the ball press them against the palm and roll it. 
 When oil is hot, pinch a small portion of mixture and drop it into hot oil, if it comes upward immediately without changing it's colour the oil is  ready for deep frying. (If it comes upward immediately and turns brown then oil is too hot and needs to be cooled a bit, if it doesn't come upward then oil is not hot enough and needs to be heated little bit more.) Slowly drop 4-5 balls (according to the size of a kadai) from sides of a kadai and stir gently.
Keep stirring the oil and moving the jamuns so they fry equally and brown evenly.
Deep fry until they turn golden brown, it will take around 6-7 minutes.
Transfer them onto a kitchen towel to remove excess oil and immediately add them to the warm syrup.
Leave the jamuns in syrup for at least 2 hours before serving to allow it to absorb the syrup properly. You will notice their increase in size as syrup gets absorbed.  
Garnish it with almonds or Pistachios and some dried rose petals. Serve hot or at room temperature. With Rabdi or with icecream.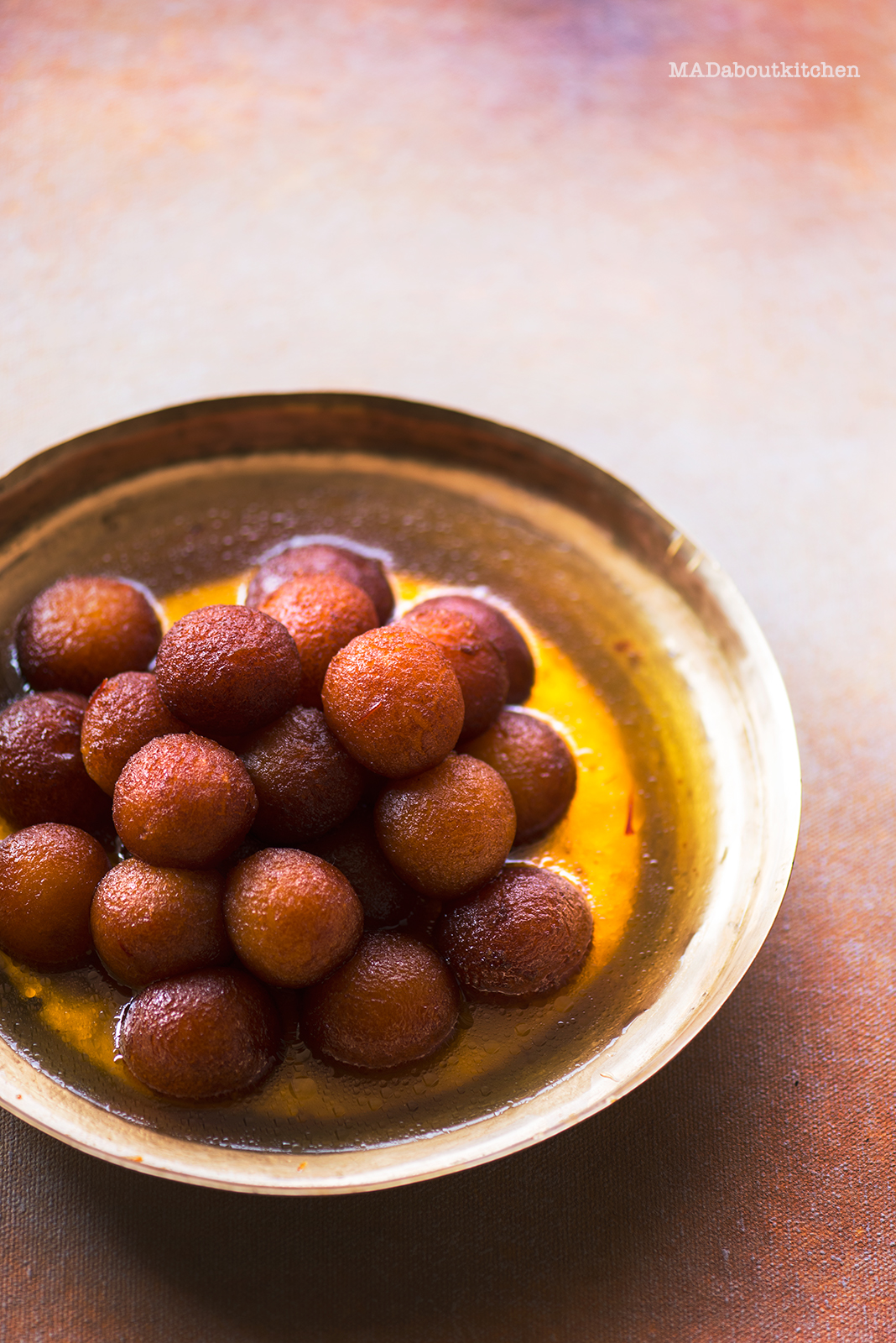 Getting the Perfect Gulab Jamun
I was always taught that the jamun mix should not be kneaded but has to be mixed very lightly. But no, kneading gives makes the jamun firm yet soft.
If you are using instant mix, use milk to knead the mix instead of water. Also the mixture has to be on the softer side and not get cracks when you roll them into balls. So add milk accordingly.
I use a wok to make the syrup as it helps all the jamuns to soak well. Use any narrow deep vessel so the jamuns have enough space to drown in the syrup.
And be patient and fry the balls in low flame as it is a key to get uniform, even colour and also to fry them till the centre.