CUCumber Fritters – Cucumber Pancakes are mini fritters that are super soft inside and crispy outside. I have used gram flour and ricotta cheese (Chenna) to make it more softer and it just just takes it to another level. Cucumber fritters are super easy to make and can be made instantly, making them perfect for weekend breakfast. You can experiment with the flavours as you like by adding any spice as you wish. You could also replace Cucmber with carrots, radish, bottle gourd or Zucchini.  These savoury pancakes are as easy to make as the regular sweet fluffy ricotta pancakes.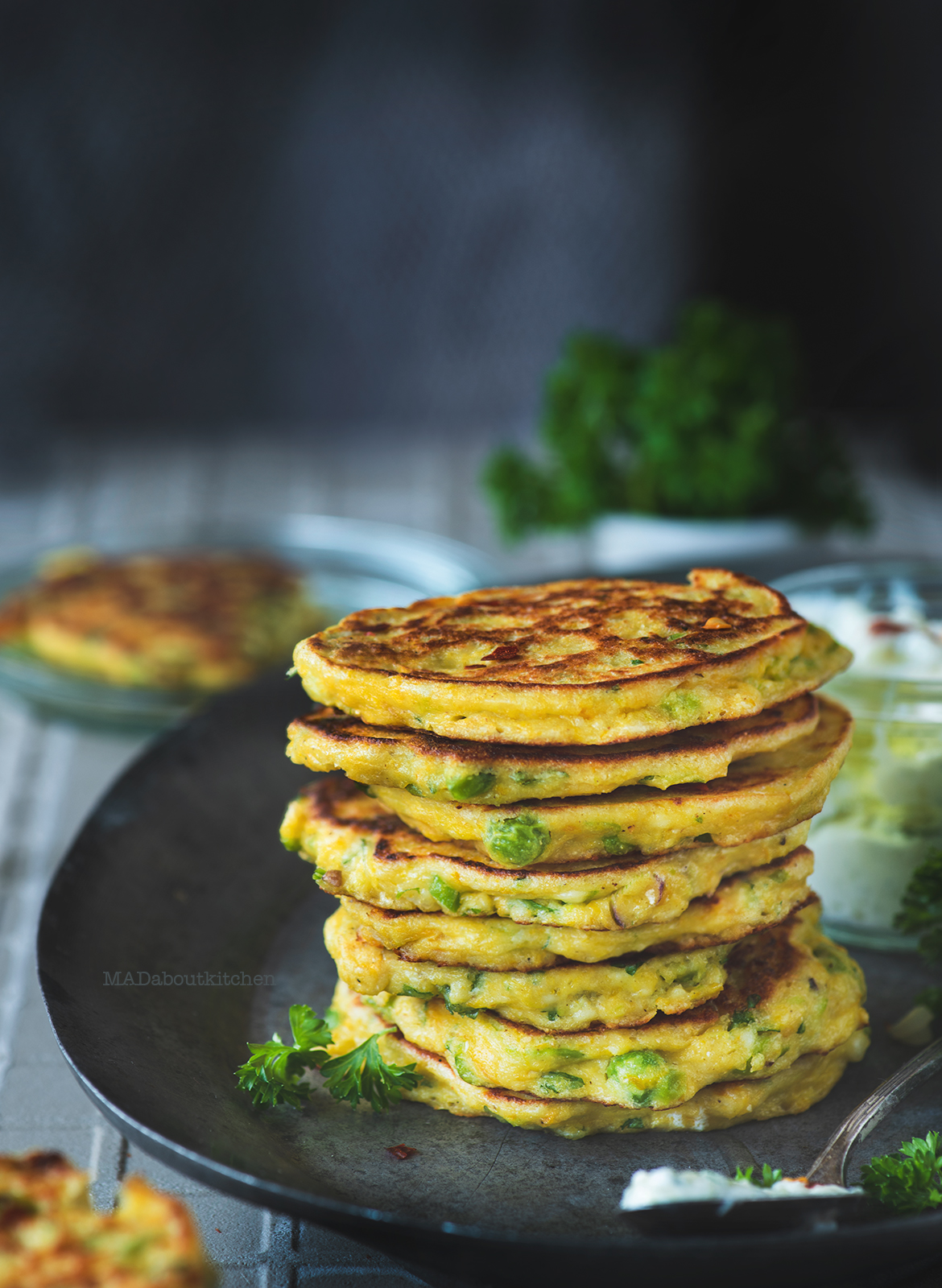 Ingredients
1 cup – grated cucumber ( firm cucumber)
1/4 cup – Ricotta cheese / Chenna (crumbled paneer)
1/2 cup – gram flour ( besan)
1/4 cup – fresh peas
1/4 cup – parsley or coriander leaves
1/4 cup – spring onions or regular onions
Salt to taste
1 Tbsp – Chilly flakes
1 – Egg
1/2 tsp – baking powder
4 Tbsp – Olive oil for frying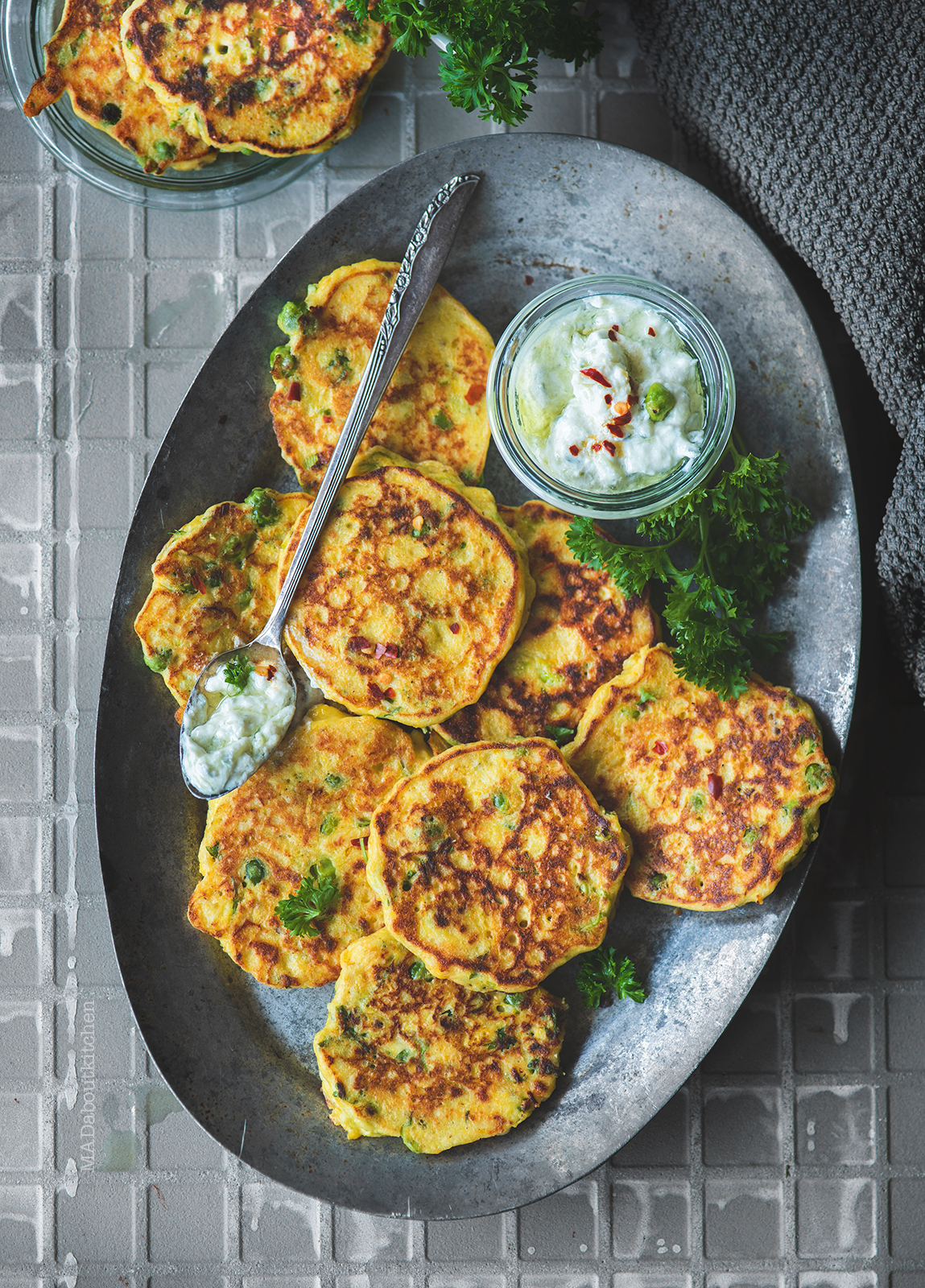 Method
Grate the cucumber , mix it with a tsp of salt and set it aside for 15 mins.
Squeeze the cucumber into a bowl. Keep the squeezed water in case you want it to get the right consistency.
Take the squeezed cucumber in a mixing bowl.
Add gram flour, lightly beaten egg, salt to taste,  Chenna, and give it a good mix till it is smooth.
Add baking powder, onions, parsley, peas, chilly flakes and give it a mix. The batter should be creamy and smooth in consistency. If required use the cucumber water to get the consistency right.
Heat the non stick pan over medium high heat and brush it with olive oil.
Drop 2 Tbsp of the batter onto the pan. I use a huge pan and hence I am able to make 5 to 6 fritters at a time.
Let the fritters cook well. You will see pores on top. Let it cook till they are nice and brown. Drizzle a little oil on top of the fritters and flip them over.
Press them using the spatula. Let them brown again.
Take them out of the pan and repeat the same process with the remaining batter.
Serve them with yogurt dip /Tzatziki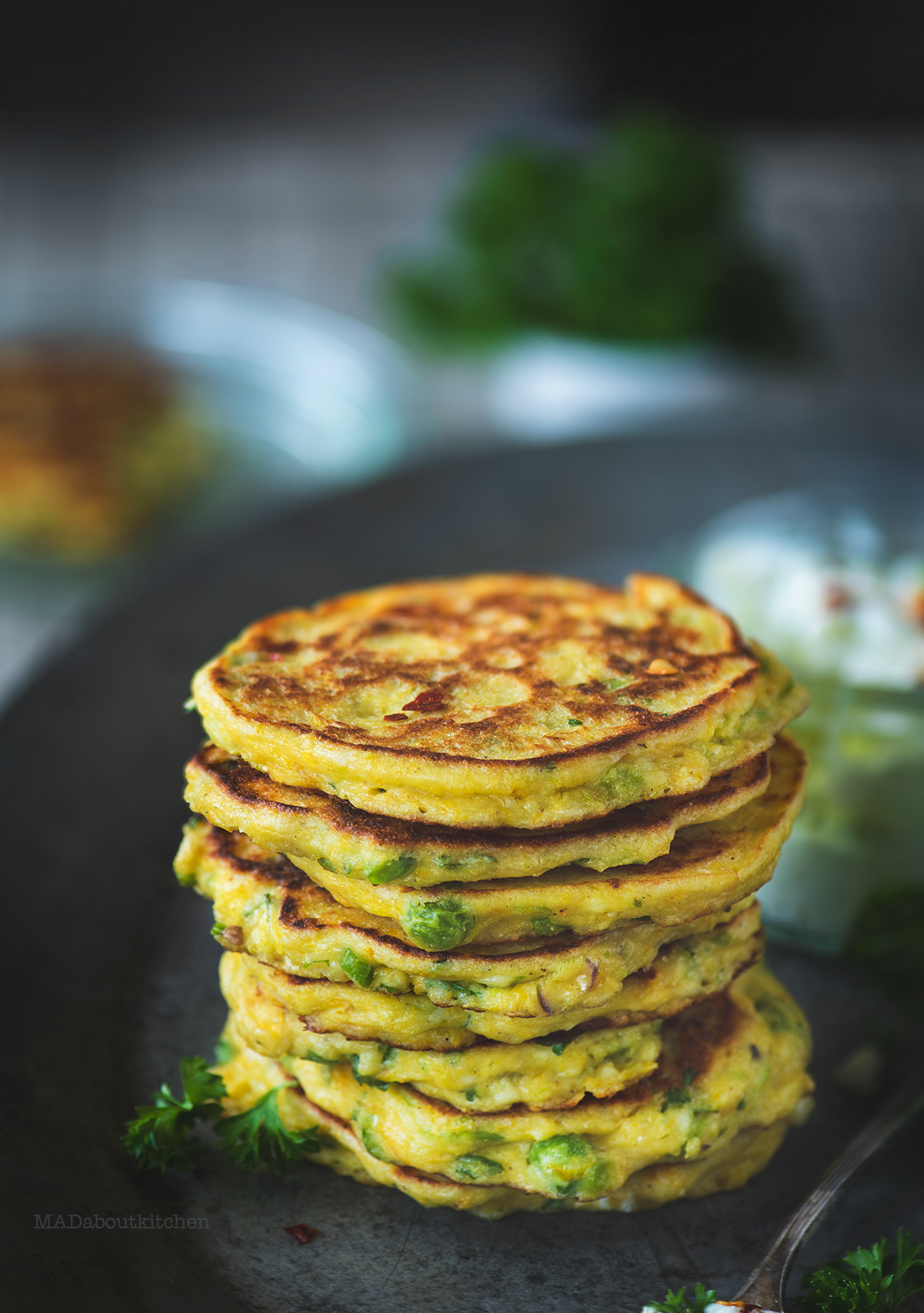 CUCumber Fritters - Cucumber Pancakes
Cucumber fritters are breakfast pancakes made using cucumber, ricotta cheese and gram flour . These are soft inside and crispy on the out.
Ingredients
1 cup - grated cucumber ( firm cucumber)
¼ cup - Ricotta cheese / Chenna (crumbled paneer)
½ cup - gram flour ( besan)
¼ cup - fresh peas
¼ cup - parsley or coriander leaves
¼ cup - spring onions or regular onions
Salt to taste
1 Tbsp - Chilly flakes
1 - Egg
½ tsp - baking powder
4 Tbsp - Olive oil for frying
Instructions
Grate the cucumber , mix it with a tsp of salt and set it aside for 15 mins.
Squeeze the cucumber into a bowl. Keep the squeezed water in case you want it to get the right consistency.
Take the squeezed cucumber in a mixing bowl.
Add gram flour, lightly beaten egg, salt to taste,  Chenna, and give it a good mix till it is smooth.
Add baking powder, onions, parsley, peas, chilly flakes and give it a mix. The batter should be creamy and smooth in consistency. If required use the cucumber water to get the consistency right.
Heat the non stick pan over medium high heat and brush it with olive oil.
Drop 2 Tbsp of the batter onto the pan. I use a huge pan and hence I am able to make 5 to 6 fritters at a time.
Let the fritters cook well. You will see pores on top. Let it cook till they are nice and brown. Drizzle a little oil on top of the fritters and flip them over.
Press them using the spatula. Let them brown again.
Take them out of the pan and repeat the same process with the remaining batter.
Serve them with yogurt dip /Tzatziki