Masala Chai, is the most common drink of India. Masala chai is a milk based tea infused with lots of ginger, cardamom, pepper, cinnamon, fennel is one of the most favourite drink in most parts of India.
India Runs on Chai, the tag line of Chai Point is so true. "Aap chai lenge???" is the first thing most of the Indians asks when they have guests over. Or "Chal chai peete hai" is how friends make plans to catch up with each other. Chai is the first thing in the morning. And everyone has their specification of how they like their Chai.
When i was in college chai was a major time pass. We would sit with one cup of chai in the canteen and spend hours discussing, gossiping, arguing, studying. At night we would go out in one of my friends car to the highway and have chai in chai thelas ( the small tea shops). 
There are different kinds of masalas that you could add to the chai depending on your mood and the weather and the time of the day. There is Adrak waali chai (Ginger Tea), Elaichi waali Chai (Cardamom Tea), Adrak and Elaichi Chai (Ginger and Cardamom Tea),  ( Will give the recipe below), Tulsi Chai ( Indian Basil Tea ), Pudina Chai (Mint Tea) Laung Chai (Clove Tea), Dalchini Chai (Cinnamon Tea),Lemon grass Chai ( Trust me its amazing!!') and there is Chai masala made using a powder that is a mixture of most the above dry spices.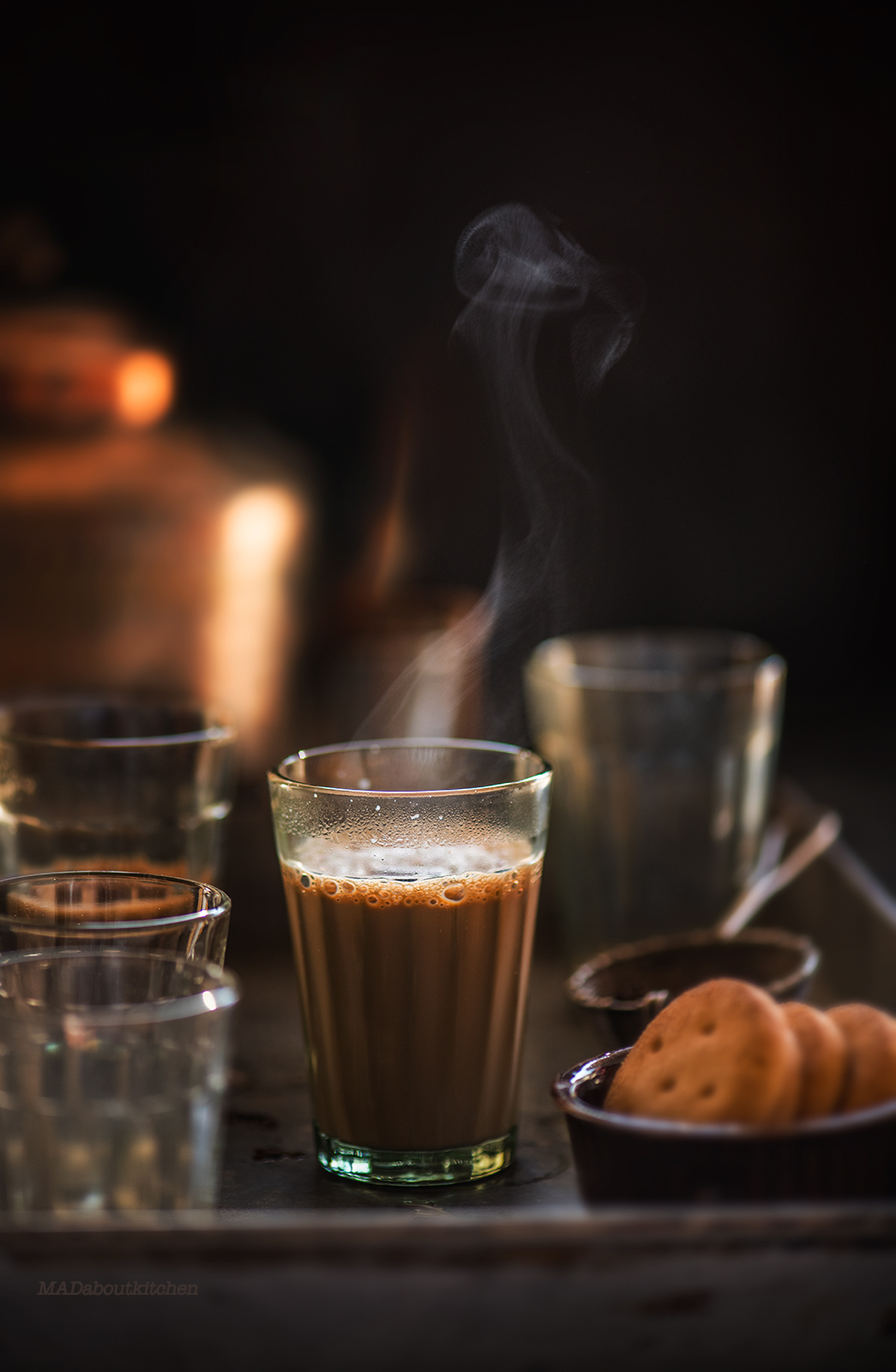 Serves 2
Ingredients:
1/4 cup  – Milk
1 cup      – Water
2to 3 tsps – Tea powder ( i use Taj Mahal coarse tea leaves powder )
Sugar to taste
Masala depending on what you want
Method 
Take water in a sauce pan and place it on a high flame.
Let it boil for a minute.
When this is boiling add sugar , any masala of your choice and boil. Except ginger.
Ginger has the tendency to curdle the milk. Reduce the flame to low and let it boil for a minute.
Add tea powder and bring it to a boil.
Add milk and let it come to a boil and let it boil for few more minutes if you like your tea strong.  
At last add lots of freshly grated ginger and give it a mix and switch off the flame.
Give it a couple of seconds and strain it and pour it into your mugs.
Adding ginger at the end gives Chai a very good ginger flavour.
You will have to make few cups of tea if you are a beginner to find out how you like your tea.