Idli is one of the most famous and most common breakfast dishes in India , specially in South India. Idly is a soft rice dumplings which are steamed and considered very healthy. 
Idli is always served with coconut chutney or Kadale chutney (split chickpea).
I hate idlis…. Bachpan se!!!
I would hate it when my mum made idlis. I would not eat and my mom would get angry at me and i would end up crying 😀
Then my mom came up with a twist to idlis. She would let the idlis cool completely, slice it and roast it on a tawa with lot of ghee. I liked that…and hence stopped the fight 🙂
I very rarely make idlis even today. My husband likes it, but then being in south india you can go have idlis in every small restaurant..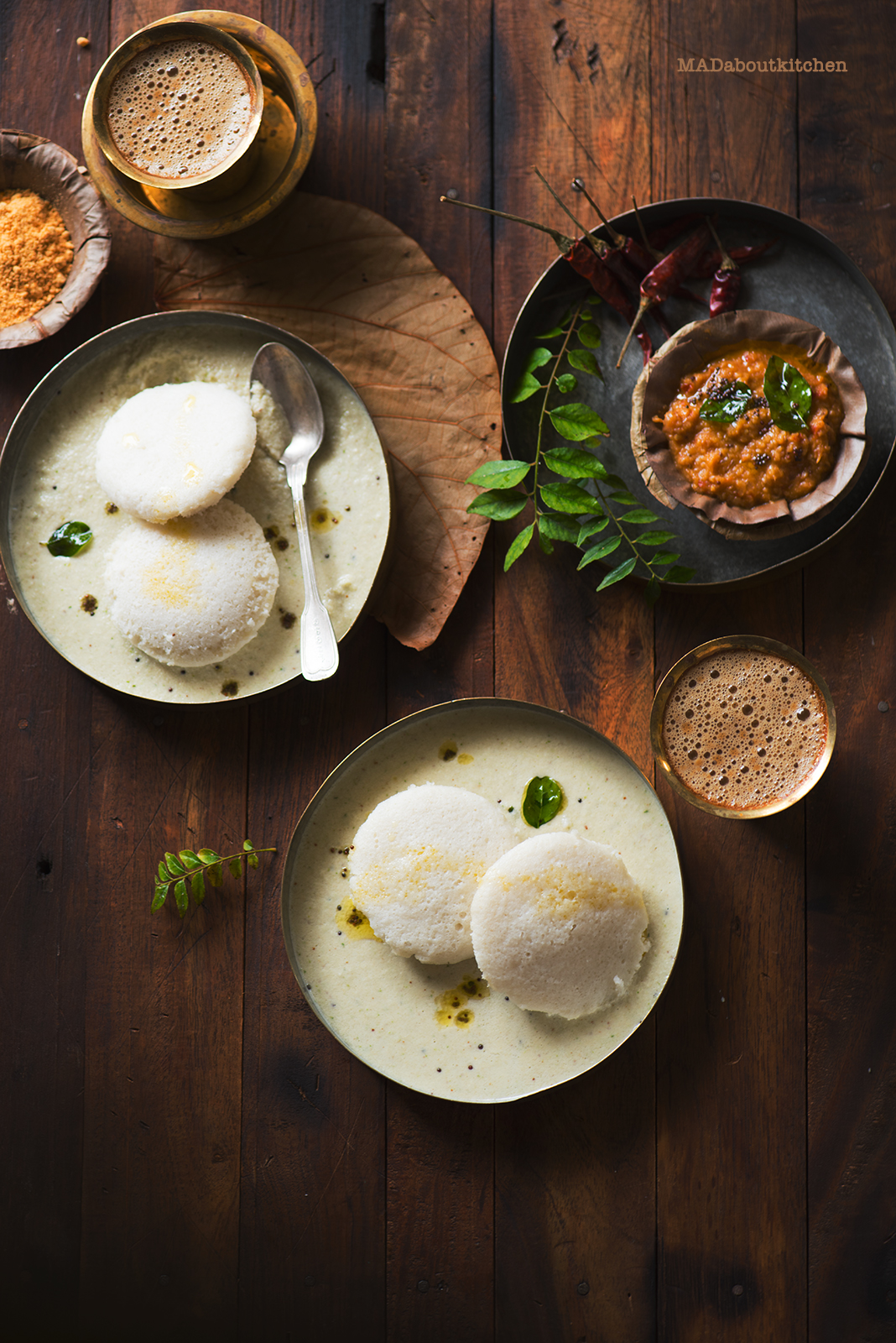 Ingredients
2 cups – Rice rava / Idli rava
1 cup – Urad dal
Salt to taste
Method
Soak urad dal for 2 to 4 hours. Grind this urad dal with very minimal water into a fine paste.
Soak rice rava in hot water for 2 mins. Squeeze it well and add it to the urad dal paste in the mixier and grind it for just a minute. Grind the rava just a little. Do not grind it into a smooth paste. It should be coarse.
Transfer it into a big vessel in which you want to ferment the idli batter.
The vessel should be big enough to hold double the amount of batter. Add salt to this, mix well. Cover it and keep it in a warm place to ferment overnight.
I always keep the vessel on a plate to collect the over flowing batter after fermentation.
Mix the batter well before you start making idlis.
Lightly grease the idli plate with oil.
Pour the batter into the plate and steam it for 5 mins or till the idlis are cooked and soft.
Take out the plates and let it sit for a minute.
Now with a sharp knife or a spoon loosen the edges and slide them out.
Serve them hot.