Chana Dal Tikki are cutlets stuffed with spicy lentil mixture which are perfect for this weather. Monsoon is finally here and I am not sure for long it is going to stay. So hoping to enjoy this weather when it stays. These Chana Dal tikkis are spicy patties absolutely perfect teatime snack. These deep-fried cutlets are also great to serve the guests as it can be prepared in advanced. They are crispy on top and soft from inside. Do justice to this weather by serving these hot Chana Dal Tikki with some hot lemon tea or masala chai 🙂
My aunt who is an amazing cook taught me this and I always go to her when I need to plan a menu or when I want to make something new. She always knows exactly what I want or what should be done :). She was the one who taught me the yummy curry leaf chutney too.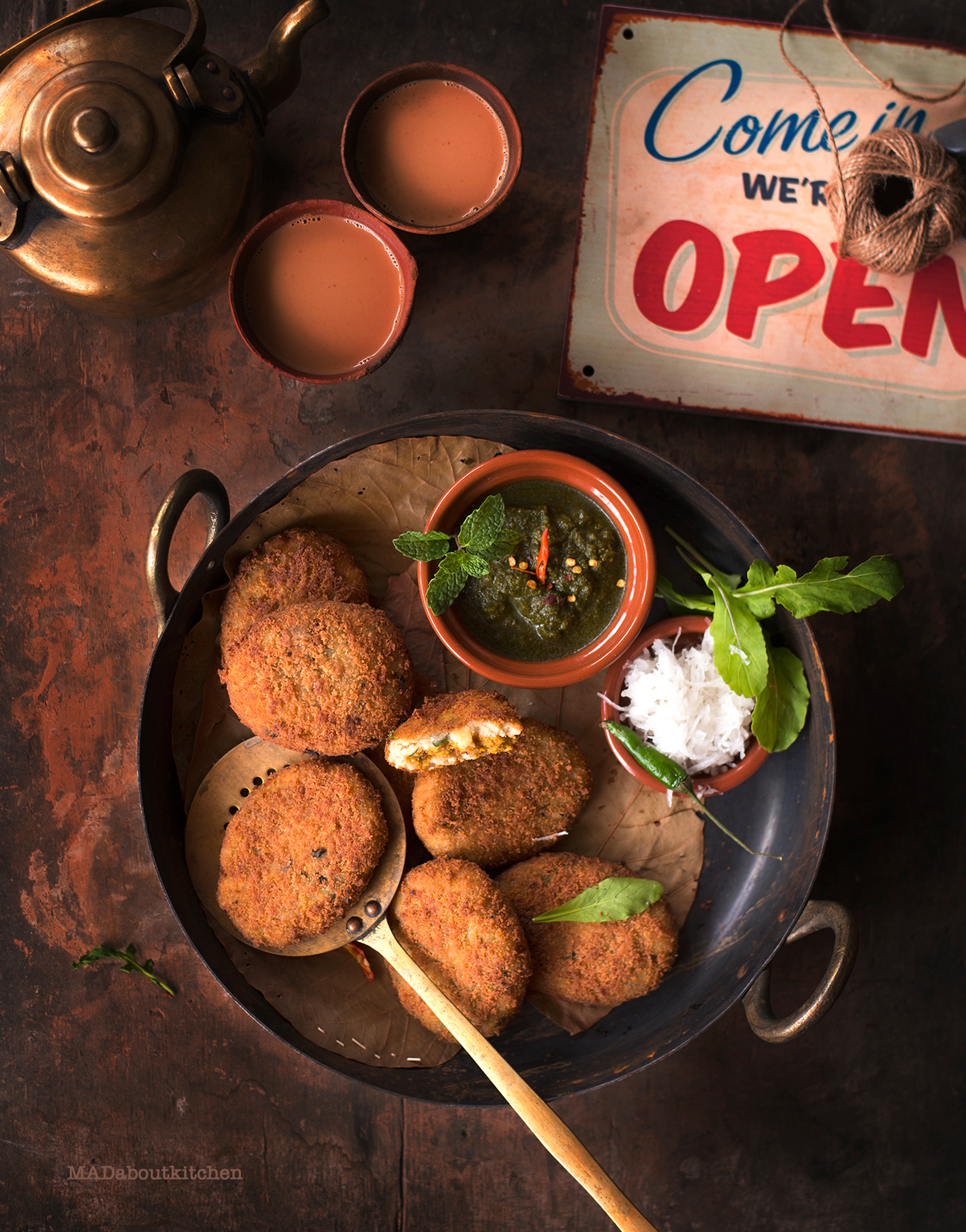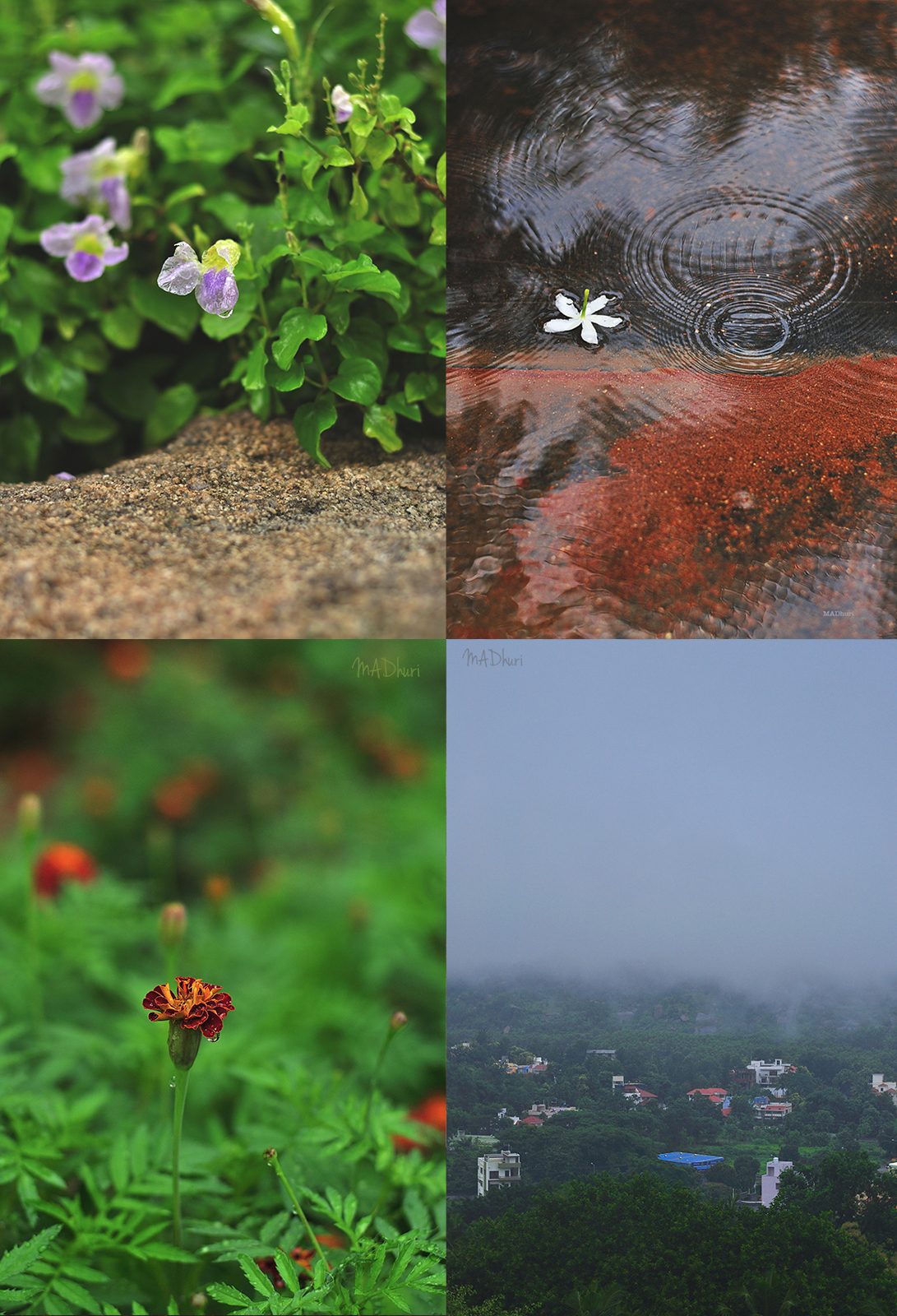 Ingredients
For the stuffing
1 cup – Chana dal /Bengal gram
1 tsp – Jeera / cumin powder
1 tsp – Daniya / Coriander seed powder
1 tsp – Mango / Amchur powder
1 tsp – Lal mirchi / Red chilly powder
1 – Green chilly, finely chopped
Coriander leaf finely chopped
Salt to taste
For the Tikki
4 nos – Potatoes , Big sized
2 slices – Bread
1 tsp – Red chilly powder
1 cup – Bread crumbs
Salt to taste
2 cups – milk
Oil for deep frying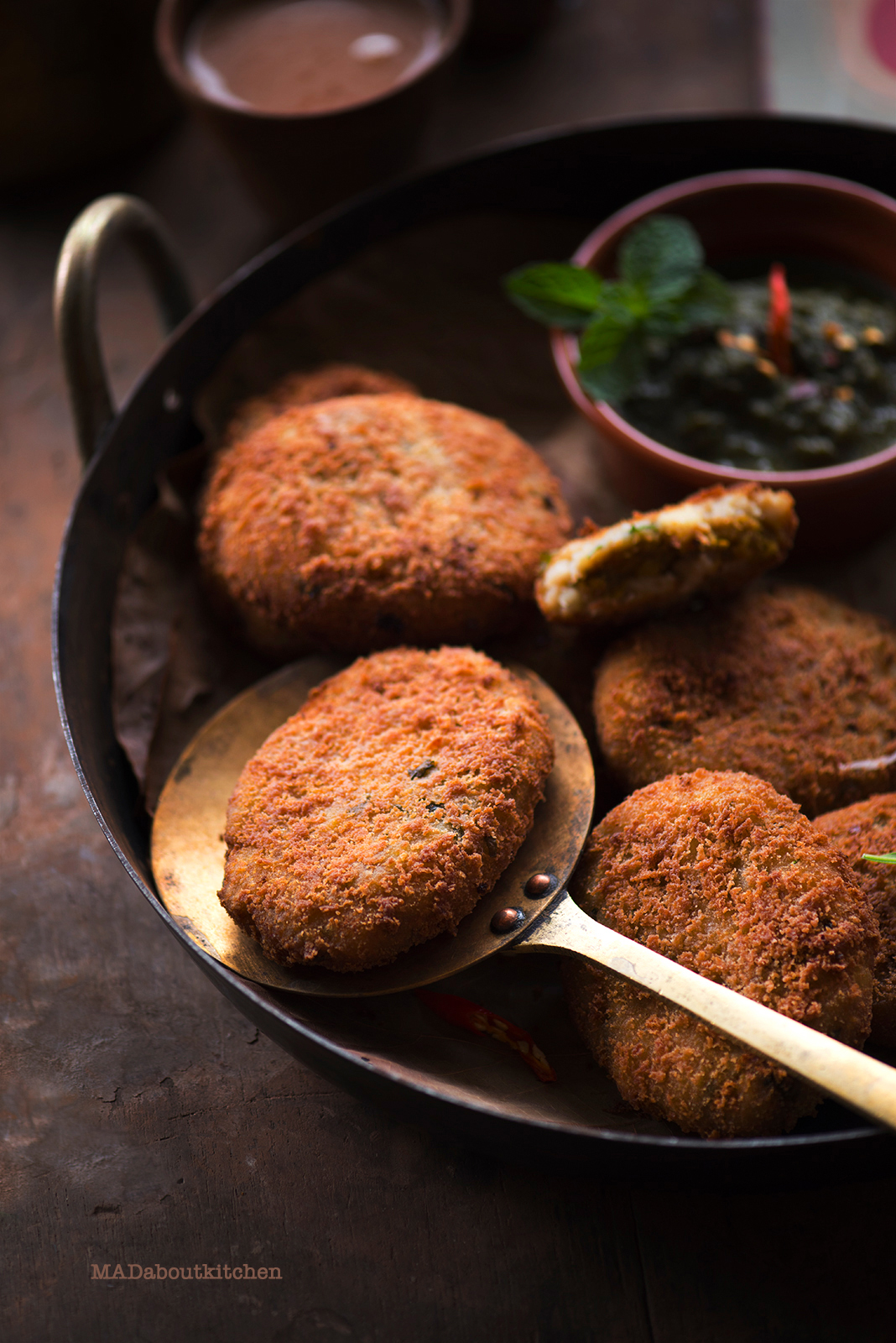 Method
For the stuffing
Wash the chana dal and soak it for a couple of hours
Pressure cook the dal with very little water till it is soft and cooked. Don't overcook it. It should be cooked well, soft but separate. I cook it till the pressure cooker releases 3 whistles. But it depends on individual pressure cookers.
Once the cooker is cooled, take the dal and transfer it on a sieve and let it sit for half an hour. This way all the excess water will drain out.
Once the dal is completely dry, mix all the remaining ingredients and mix well. Make is as spicy, tangy as you like it. Keep the spice on the higher side. The outer potato covering will balance it out.
For the outer covering – Potato mixture
Boil the potatoes well a day in advance and let it sit in the refrigerator. This way the potatoes are dry enough to hold the shape of the cutlet well.
Mash it along with salt and red chilly powder.
Dip the bread slices in the milk, squeeze out all the milk and mix the bread slices with the potato. Mix it all together well.
Making the cutlet
Divide the stuffing mixture and potato mixture into 6 parts
Roll the potato mixture into a ball and flatten it to 1cm thick disk.
Place the stuffing in the centre and gather the edges and cover it well without any visible opening.
Flatten it by pressing between your palm very lightly to your desired shape.
Place breadcrumbs and milk in two different plates.
Coat the tikki with breadcrumbs while pressing it lightly.
Dip the tikki in milk and coat it in breadcrumbs again. Coating it in breadcrumbs twice ensures a well coated crispy cutlet.
Prepare all the cutlets this way. You can freeze them at this stage for later use in case you are making them in advance.
Deep fry the tikkis on medium low flame till they are nice and gold in colour.
Transfer them on to kitchen towels.
Serve them with Pudina Chutney (mint chutney) and some grated radish. Do not forget the chai 😉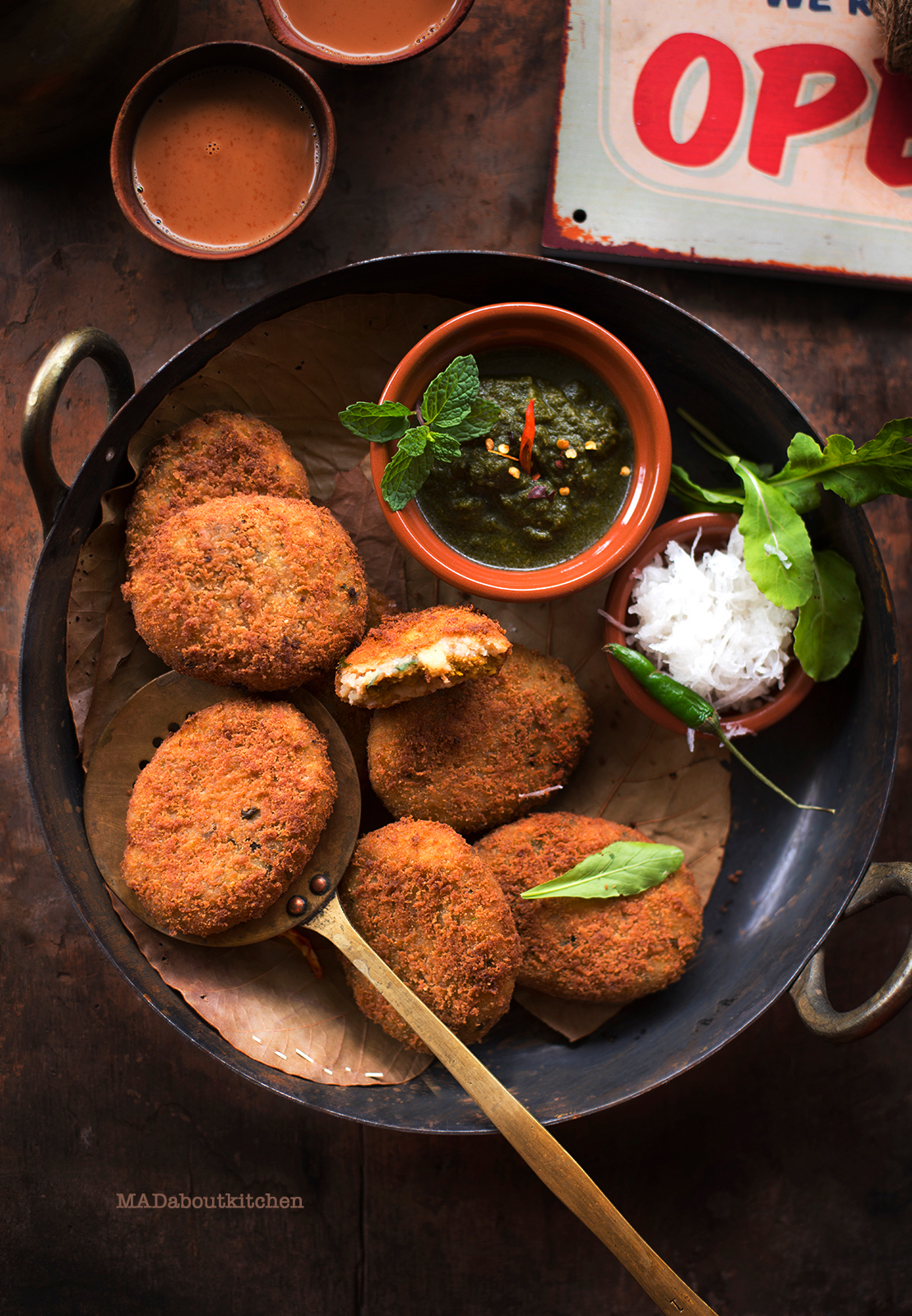 Chana Dal Tikki / Spicy lentil #cutlets #teatime #snack
Chana Dal Tikki are cutlets stuffed with spicy lentil mixture which are perfect for this weather. These spicy patties are perfect teatime snack.
Ingredients
FOR THE STUFFING
1 cup - Chana dal /Bengal gram
1 tsp - Jeera / cumin powder
1 tsp - Daniya / Coriander seed powder
1 tsp - Mango / Amchur powder
1 tsp - Lal mirchi / Red chilly powder
1 - Green chilly, finely chopped
Coriander leaf finely chopped
Salt to taste
FOR THE TIKKI
4 nos - Potatoes , Big sized
2 slices - Bread
1 tsp - Red chilly powder
1 cup - Bread crumbs
Salt to taste
2 cups - milk
Oil for deep frying
Instructions
FOR THE STUFFING
Wash the chana dal and soak it for a couple of hours
Pressure cook the dal with very little water till it is soft and cooked. Don't overcook it. It should be cooked well, soft but separate. I cook it till the pressure cooker releases 3 whistles. But it depends on individual pressure cookers.
Once the cooker is cooled, take the dal and transfer it on a sieve and let it sit for half an hour. This way all the excess water will drain out.
Once the dal is completely dry, mix all the remaining ingredients and mix well. Make is as spicy, tangy as you like it. Keep the spice on the higher side. The outer potato covering will balance it out.
FOR THE POTATO MIXTURE
Boil the potatoes well a day in advance and let it sit in the refrigerator. This way the potatoes are dry enough to hold the shape of the cutlet well.
Mash it along with salt and red chilly powder.
Dip the bread slices in the milk, squeeze out all the milk and mix the bread slices with the potato. Mix it all together well.
MAKING THE CUTLET
Divide the stuffing mixture and potato mixture into 6 parts
Roll the potato mixture into a ball and flatten it to 1cm thick disk.
Place the stuffing in the centre and gather the edges and cover it well without any visible opening.
Flatten it by pressing between your palm very lightly to your desired shape.
Place breadcrumbs and milk in two different plates.
Coat the tikki with breadcrumbs while pressing it lightly.
Dip the tikki in milk and coat it in breadcrumbs again. Coating it in breadcrumbs twice ensures a well coated crispy cutlet.
Prepare all the cutlets this way. You can freeze them at this stage for later use in case you are making them in advance.
Deep fry the tikkis on medium low flame till they are nice and gold in colour.
Transfer them on to kitchen towels.
Serve them with Pudina Chutney (mint chutney) and some grated radish. Do not forget the chai 😉